Wes Craven's Scream 5 on ice but Deadly Blessing on Blu-Ray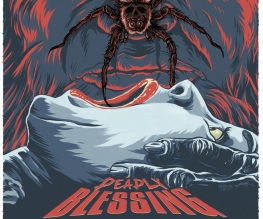 We reported a while ago that Wes Craven was attempting to get the ball rolling on a fifth Scream film. The news coming through today is that the ball is now very much in the court of The Weinstein Company, who are reported to be understandably nervous that audiences have become too demanding in their horror tastes to be satisfied with the sort of fare offered up by the franchise. With contemporary audiences weaned on torture porn and J-horror, perhaps the day of the rampant knife killer whodonit has passed.
Nevertheless, we have some good news for fans of the slasher director. Arrow Video have just announced that the Blu-ray & DVD deluxe edition of his American horror classic Deadly Blessing will be released in the UK on the 25th March.
Featuring a young Sharon Stone in one of her first-ever feature film roles, Deadly Blessing is a take of rural disgust and simmering evil from the golden age of video terror, brought back to life and released on Blu-ray for the very first time. In addition to a gold-mine of extra features for Wes fans including interviews and documentaries, we are promised a selection of hidden easter eggs, one of the most fun features of DVD these days.
Fans of Ms Stone will recall that we reported recently that Anne Hathaway is set to make a new Catwoman film, in an attempt to upgrade the franchise following the dire Halle Berry-Sharon Stone effort a few years back. Rumours are that Stone herself may show up in a crucial supporting role…
Would Scream 5 be a Deadly Blessing? What's the best hidden Easter egg feature you've found on DVD? LET US KNOW
About The Author