Jon Tenney is Green Lantern's Dad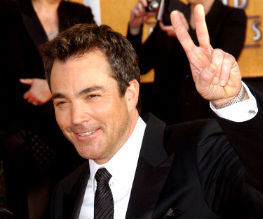 The casting news for the upcoming DC Comics Green Lantern film continues to fly in thick and fast. Ryan Reynolds may be playing the Green Lantern of Sector 2814, but who – you cry – is playing Hal Jordan's dad?? Well, worry no longer Lantern fans – Jon Tenney, star of US Cop drama The Closer has been confirmed to play Martin H Jordan.
In the comics, the death of his father inspires Hal Jordan to become a fighter pilot, which in turn leads to him receiving a Green Lantern ring off Abin Sur, confirming him as the dying alien's successor. Jordan then goes on to become a totally awesome super hero (what is it about superheroes and dead relatives?).
Tenney said of the casting:
"Ryan Reynolds is the Green Lantern, and when he is a young boy, like 11, I'm his father. I'm Hal Jordan's dad. I'm very excited – it's incredible company."
It sure is, Jon. It sure is. Green Lantern is due out June 2011.
Excited for Green Lantern? Or have you had enough superhero comic book films to last a lifetime? Let us know below!
About The Author