Josh Brolin fumes in first image from Sin City 2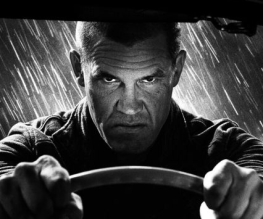 Josh Brolin fans; prepare yourselves. The first image from Sin City: A Dame to Kill For has just surfaced and it features the one and only Josh Brolin as Dwight, looking mean, fierce and rain-soaked behind a steering wheel. Robert Rodriguez tweeted the photo alongside another, this time of Brolin in front of a green screen, driving a steering wheel attached to a box. Nothing like creating a sense of atmosphere.
Click on the image below for larger shot of Brolin in all his badassery: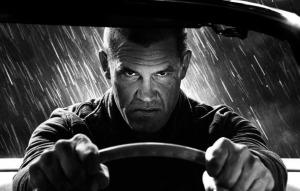 Sin City 2 director Rodriguez commented on the monochrome photo, saying, "… here's a quick photo touch up I do to set a tone for the actors (probably won't be raining in final movie)." Won't be raining? But… it's always raining in a Frank Miller comic!
Time for the second photo. This one is sure to warm your cockles: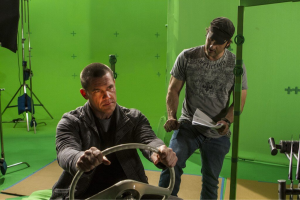 Ahh! Rodriguez tweeted this alongside the photo; "Here's bad ass Josh Brolin driving a Rodriguez-mobile (a green box with a steering wheel bolted on)".
It's all terribly overwhelming. Meanwhile we'll be refreshing Rodriguez's Twitter feed until he releases a heart-pounding photo of Joseph Gordon-Levitt, like, naked or something, or Mickey Rourke just being Mickey Rourke. SATISFY US, RODDY.
The cast for Sin City: A Dame to Kill For is already looking like the most smoothest ensemble of Coolest Actors Ever, particularly with The Departed's screenwriter William Monohan penning the script. But the sequel is yet to include a UK release date. Sigh. We'll let you know as soon as we know.
PUMPED for Sin City: A Dame to Kill For? Think it'll do its prequel justice? Let us know!
About The Author