Justice League gets a writer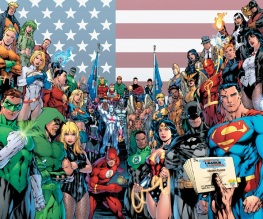 After the spectacular success of Marvel super-superhero film Avengers Assemble saw it become the third highest-grossing film of all time, DC Comics' most bankable heroes have just got one step closer to their own ensemble movie – frantically playing catch-up, Warner Bros. has found a screenwriter for the long-awaited Justice League.
Traditionally led by a pantheon of heroes including Superman, Batman, Green Lantern, Wonder Woman and the Flash, the Justice League has been stuck in development hell since the 2008 Hollywood writers' strike. HOWEVER, Gangster Squad scribe Will Beall has reportedly been tapped to fire things up once more.
Frankly, we don't fancy Beall's chances. Joss Whedon had four established central characters, all rocking their own franchises, to work with when he made Avengers Assemble. By contrast, Chris Nolan's Batman trilogy is just about to wrap up whilst Zach Snyder's Superman reboot still isn't out, the proposed Flash and Wonder Woman films don't even officially exist and everyone hated Green Lantern. Good luck making those fit together, Will…
Do you care about the Justice League? Nah, nor us.
About The Author