Kat Dennings back for Thor 2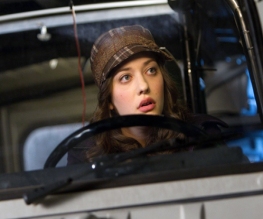 With its 8 November, 2013 release date fast approaching, and Stellan Skarsgård reporting that filming is to begin this month (before he whips his bits out for Von Trier), there can't be much in the tenth realm of casting that we don't yet know about Alan Taylor's upcoming sequel. With today's announcement that Kat Dennings is to return for Thor: The Dark World, the cast seems to be complete with Chris Hemsworth, Natalie Portman, Tom Hiddleston, Anthony Hopkins, Idris Elba, Rene Russo, Ray Stevenson, Jamie Alexander, Christopher Eccleston and Skarsgård also set to appear.
Dennings played the role of Darcy Lewis in Kenneth Branagh's original film to a somewhat mixed reception. The movie's comic relief, she provided an amusing running commentary of the film's more outlandish moments, stealing almost every scene in which she appeared. Also given the thankless task of pandering to younger audiences with incessant discussions of iPods and Facebook — as well as inciting endless exposition — however, she simultaneously managed to rub many the wrong way. Lucky you then, because while details are few and far between, Deadline are reporting that the actress will enjoy a substantially bigger role this time around.
With phase two of Marvel's Cinematic Universe getting under way with Iron Man 3 next May, Thor: The Dark World will be followed by Captain America: The Winter Soldier, Guardians of the Galaxy and Ant-Man, culminating finally in Joss Whedon's The Avengers 2.
About The Author