Liam Neeson lined up to join The Butler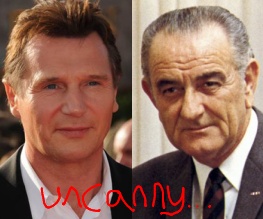 Remember when we were going on about Oprah yesterday? Well, it turns out that her possible appearance in Lee Daniels' The Butler is actually fairly small potatoes. Liam Neeson is the latest A-lister to be touted for a role – and it's not even for the first time.
Daniels is reportedly keen to secure Neeson as President Lyndon B. Johnson (one of eight presidents due to appear in the film over the course of the titular butler's decades-long stint working at the White House). Neeson was also Daniels' first choice for the role of President Johnson in his civil rights drama Selma, which finally hit the rocks last year after a sojourn in development hell.
Winfrey (who would be playing possible lead David Oyelowo's wife) and John Cusack (Richard Nixon!) are apparently now near-certs, whilst Mila Kunis is considering playing Jackie Kennedy. Rumour has it Hugh Jackman may also be involved – he was also signed up for Selma, although we're concerned that if he takes anything else on this year he'll never find time for The Wolverine.
About The Author