Lionsgate Bids Big for Terminator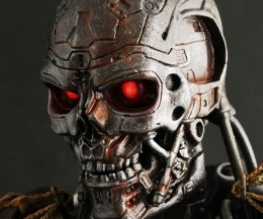 Distributors extraordinaire of the blood-and-guts genre, Lionsgate, have put in a whopping $15 million bid for the rights to the Terminator franchise.
The company behind the Saw films and recent shoot-em-up vampire extravaganza Daybreakers is now the one to beat in the bankrupt Halcyon Group's auction.
A court order issued in LA yesterday has designated Lionsgate the "stalking horse" bidder, meaning other interested companies will have to bid $500,000 more in order to beat them to the punch. Even if someone does come in over the top of the distributor at this stage, they'll still take home a cool $750,000 as a "break-up fee". Ah, those crazy Hollywood cats.
Closing date for bids is 5th February, so if anyone else wants to make a higher bid, they'll have to do it pronto. According to whispers in the Hollywood press, Sony Pictures, Summit Entertainment and film financing company Legendary Pictures are all considering their options. Private equity firm Pacificor, who lent Halcyon the money to make the fourth Terminator movie Salvation, and whose repayment demands led the company into bankruptcy in the first place, may also make a bid.
It's a tricky business though, with the word "rights" not necessarily being all inclusive. Whoever wins the auction will still have to hand back all future revenue from Salvation to Halcyon, and certain rights may also revert to in 2019 to James Cameron, who wrote and directed the first two films. Nevertheless, if the next Terminator film sees the franchise rebooted good and proper this time, there's still a huge amount of earning potential.
What do you think Lionsgate could make of the Terminator franchise? Could someone else reboot it better? Leave us your thoughts.
About The Author