Madonna Gives Directing Another Try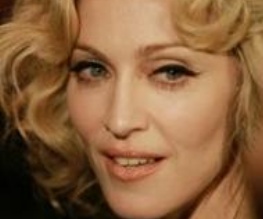 If at first you don't succeed, eh Madge?
After the horrible failure of Madonna's directorial debut (she had a directorial debut? We know, we missed it too), it seems that the queen of pop is ready to give it another try. Her first effort, Filth And Wisdom, came out in 2008 and was gleefully slated by the critics as fluffy nonsense, so it could be that she's hoping somehow (how? but really, how?) to change the world's opinion.
The story she's got her eye on is that of Wallis Simpson; the American socialite whom King Edward VIII abdicated the throne for in the 1930s. She has been described as both a "greedy snob" and a "sexual predator". We have to admit, with descriptions like that, it sounds like a role Madonna might really empathize with.
Madonna has stopped short of taking the lead role, with Up In The Air star Vera Farmiga apparently in line to take the part. This is a pretty interesting development, as in our opinion Vera is a pretty cracking actress, and it will be fascinating to see what happens when put under the potentially disasterous control of queen Madge.
But maybe we're being pessimistic about this. Just because you can't really sing, or act, doesn't mean you can't direct, right? Yeah. Yeah… Maybe we'll leave it there for now.
Are you excited to see what Madge can do next? Or is this a disaster waiting to happen? Let us know your thoughts below…
About The Author