Man of Steel goes commando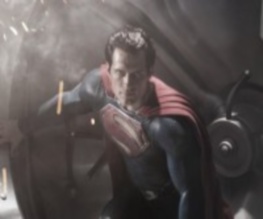 We're still at least a year away from Zack Snyder's visioning of the modern Superman, yet already there has been a lot of 'iffy' news surrounding the film. For example, we were quite happy knowing that Snyder had been hand-picked to direct; knowing that his first stab at a superhero movie (Watchmen) went down a treat. We were not so happy when rumours circled surrounding the reasoning behind the decision. Apparently the script, written by David Goyer, was rushed, therefore Synder was brought on board, not for his creative talents, but for his time-efficiency when filming. Read the whole news story here. Doesn't sound hugely exciting does it?
And now we have something else to be mildly upset about – prepare to grieve the loss of these babies…

Alas, Henry Cavill, who plays said Man of Steel, has been photographed without the signature red pants in these newly released shots of the film. The suit itself is also a lot darker; suggesting that perhaps Snyder's superman will be less 'scrubbed-up good boy', more 'mysterious and complicated'.
Thankfully the standard chocolate brown locks, rippling muscles and red booties have not been overlooked.
More joy to come as we enter Cape Town! (Not to be confused with that place over in Africa).
But if we had things our way, this would be the fabulous result:
Much better.
Cavill is starring alongside an awesome cast including Amy Adams as Lois Lane, Kevin Costner as Jonathan Kent, Diane Lane as Martha Kent and Russell Crowe as Jor-El.
The film is set for release in 2013.
About The Author