Megan Fox claws way into Ninja Turtles reboot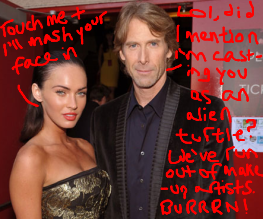 Didn't we tell you? Didn't we tell you nearly a year ago that this would happen? Just call us Best For PSYCHIC Film News, because it's all official now: Megan Fox will be playing news reporter and turtle pal April O'Neill in Michael Bay's upcoming Teenage Mutant Ninja Turtles reboot. Despite a long-standing feud between the two (Fox said Michael Bay lacked any social skills then compared Bay to Hitler) – it looks as if it's all rainbows and happy faces once again for the pair as they re-unite to tarnish our childhood memories to create "incredibly real alien turtles". (??????????)
Despite claiming that Bay was a "nightmare" to work with on the set of Transformers and being fired and replaced with Victoria Secrets model Rosie Huntington-Whitely, Megan Fox is back in a yellow jumpsuit vengeance as the lead role in Teenage ALIEN Ninja Turtles. Bay may only be acting as producer for the reboot, but what with his Napoleonic (your words, Fox) rule on film sets he's probably the one to blame for making all these preposterous decisions. Such as re-branding the turtles as "aliens" rather than "mutants", banning guitar riffs and putting an end to pizza deliveries (the last two aren't true BUT THEY MAY AS WELL BE.)
Maybe we're being far too cynical and judging. After all, Michael Bay told us that this would be the best ninja turtles movie ever. We should probably give him and Megan Fox a chance.
No, we can't. Why don't you go ahead and pull out the knife from our backs, Bay. We beg you.
While you process all this news, check out our new Top 10 favourite cinematic turtles. GUESS WHO'S ON THERE?!
Even Megan Fox can't dampen our spirits, because we're still excited to see Teenage Mutant Ninja Turtles. Are YOU?
About The Author