Meryl Streep as Margaret Thatcher?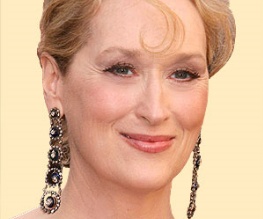 Because apparently the Spitting Image biopics weren't quite enough… Meryl Street, first lady of Hollywood, is currently in talks to take on the Iron Lady herself – Margaret Thatcher. A new film is being planned centering around our first and only female Prime Minister and the trials and tribulations she faced in the lead up to the Falklands War.
Feelings about the Thatcher empire aside, we can't help but think Streep is the perfect person to play her – she certainly showed she steely side in The Devil Wears Prada, and has the skills to make even the most calculating, cold-hearted characters seem personable. Not that we're saying old Maggie wasn't personable or anything. Ahem.
It looks like Jim Broadbent might be joining the cast as Thatcher's husband – adding another interesting angle to the news. If Jim's involved, hopefully it means that the script is fairly impressive. Anyone who saw Channel 4's beautiful drama Mo about the life of Mo Mowlam knows that political films can be as full of heart and poignancy as any other film, so perhaps this film might be able to shed some light on the woman behind the armour. Reckon the masses can be swayed about Maggie?
About The Author