Michael Bay denies Ninja Turtles will be aliens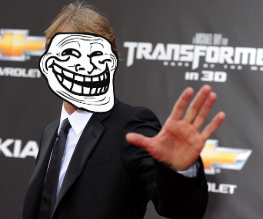 Michael Bay, continuing his bloody, relentless campaign to troll the entire universe, has revealed that the upcoming Teenage Mutant Ninja Turtles film WON'T rewrite the origins of the half-shelled heroes to make them cocky space aliens, despite previous claims to the contrary. Teenage Mutant Ninja Turtles fans should rejoice, if it weren't for the fact that Michael Bay is still producing this inexorably terrible idea.
Here are some choice quotes from Terrible Human Michael Bay:
"There was that quote saying that we're making [the Ninja Turtles as] aliens. We're not. It's the ooze. It's from the original source material. These are from the original writers, and I never went out to correct myself in the press."
Nice play, Michael Bay. You seem to be saying you made a teensy tiny mistake that no one paid any attention to, and didn't send TMNT fans into gales of hysterics.
Let's compare Michael Bay's original 'alien reveal':
"These turtles are from an alien race and they are going to be tough, edgy, funny and completely lovable."
Huh. That's a quote from March 2012. Michael Bay chose not to correct himself for over a year. What a classy fellow.
Featuring Megan Fox as April (DEAR LORD) and a bunch of unknown douche bags as the titular heroes, Michael Bay's Teenage Mutant Ninja Turtles is set for release sometime in 2014.
Well, we got our wish. Leonardo and the gang aren't aliens. It feels like a pyrrhic victory, doesn't it?
About The Author