Michael Fassbender to tackle Macbeth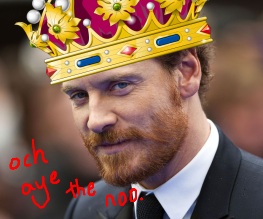 Roland Emmerich's thinly veiled propaganda exercise funded by the shrieking descendants of Christopher Marlowe – Anonymous – has done nothing to to dissuade the acting fraternity and general populus from the Bard's work, and now, in what is certainly a big middle finger to Emmerich and his Illuminati brethren, Michael Fassbender has signed on to play Macbeth on the big screen.
Justin Kurzel, director of crime drama Snowtown, is at the film's helm, with the production company behind The King's Speech and veritable Fassbender knobathon Shame ponying up the dough.
At this point it's actually hard to imagine a role that Michael Fassbender couldn't make a fair fist of. In a relatively short space of he's traversed the line between daring arthouse (Hunger, Shame, Fish Tank) and mainstream blockbusters (Prometheus, Inglourious Basterds, X-Men: First Class) and total rubbish (Eden Lake), proving himself as an actor of terrific worth at the same time as making labias all over the world burst into flames. Combine that with the consummate ease he has with dialogue (that scene in Hunger, oh man) and really, it's a pretty perfect casting. How d'you like them apples, Emmerich? Not so smart now.
Will you be watching Fassbender freak out as Thane of Cawdor? Let us know below!
About The Author