Moneyball, The Artist and The Help shine in Golden Globe nominations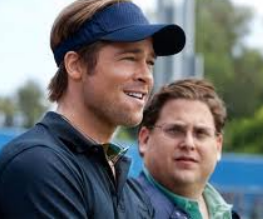 I don't know if you noticed, but there have been quite a few films out this year. And some have been better than others. But how much better? LET'S QUANTIFY IT WITH AWARDS! The Golden Globes will take place on the 15th January 2012, and today marks the reveal of the nominations! So how did your favourites of 2011 fare? Let's find out together…
George Clooney must be a pretty happy bunny; both The Descendants (in which his starred) and The Ideas Of March (which he starred in and directed) are up for Best Drama, with his performance in The Descendents getting him a nomination for best actor. He's also up for Best Director for Ides , the clever dog.
He's joined in the Best Actor- Drama category by Leo DiCaprio for J Edgar, Michael Fassbender for Shame, co-star Ryan Gosling for The Ides Of March and Brad Pitt for Moneyball.
Gosling also got himself nominated for Best Actor – Comedy/Musical for his performance in Crazy, Stupid Love, alongside Jean Dujardin for The Artist, Brendan Gleeson for The Guard (hurrah!), Joseph Gordon-Levitt for >50/50 and Owen Wilson for Midnight in Paris.
In terms of the ladies, Best Actress – Drama nominations went out to Glenn Close for Albert Nobbs, Viola Davis for The Help, Rooney Mara for The Girl With The Dragon Tattoo, Meryl Streep for The Iron Lady and Tilda Swinton for We Need To Talk About Kevin. For performances in comedy/musical, nods went out to Kristen Wiig for Bridesmaids, Michelle Williams for My Week with Marilyn, Charlize Theron for Young Adult, with Kate Winslet and Jodie Foster both getting nominations for their roles in Carnage .
Tate Taylor's saccharine drama The Help got itself four nominations – A Best Picture, Best Actress and two Best Supporting Actress nods, while silent-film phenomenon The Artist picked up a stonking six nominations – Best Original Score, Best Original Screenplay, Best Director (for Michel Hazanavicius), Best Supporting Actress, Best Actor and Best Film – Musical/Comedy.
Good to see support for the brilliant Moneyball – it picked up nominations for Best Screenplay, a Best Supporting Actor nod for Jonah (well deserved, in our opinion) as well one for Best Actor (for Brad Pitt) and Best Drama.
There are an interesting lack of nominations for the critically acclaimed Drive – it got just one nod, and that was for Albert Brooks' supporting role. That means it got the same number of nominations as Madonna's W.E. Just saying.
For a full list of nominations, click here and go to town. What were your favourites of 2011?
About The Author