MTV Movie Awards 2011 Nominations are out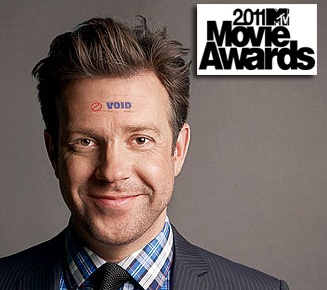 Its that time of year again, the 2011 MTV Movie Award nominations have just been released.
Including some of the silliest categories in awards history (Best Scared as Shit Performance and Biggest Badass Star to name but two), the awards are generally most famous for repeatedly rewarding Robert Pattinson and Kristen Stewart for doing what they do best, that is kissing and looking surly.
You know an awards show should not be taken too seriously when Lotso Bear from Toy Story 3 is nominated in the Best Villain category (and interestingly, someone named Voldemort is mysteriously absent), but the awards themselves  promise to be as gungey, kissy and Tween-oriented as always.
It wouldn't be MTV without the totally pointless immensely talented and successful Justin Bieber being mentioned, and his performance in Never Say Never is nominated for Best Jaw-Dropping Moment.
Luckily, sense has prevailed with Inception obtaining a truckload of nominations, as well as nods for Kick Ass and The Social Network.
The awards will be hosted by Saturday Night Live alumnus Jason Sudeikis in California on 5th June. For a full list of nominations and to vote click here:
About The Author