Napoleon Dynamite will be TV Series! Gosh!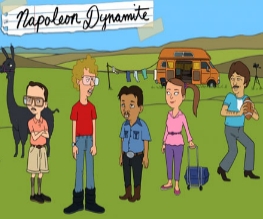 Probably the best news of all time; Napoleon Dynamite is being made into a six episode animated series with the entire film cast expected to provide voices for the show. Ooh, I wonder if Tina, the fat lard of a llama will be present in the studio.
If you loved Napoleon Dynamite as much as I did, then whack on your moon boots and start taking off some sweet, celebratory jumps (I wanna see three feet of air) because Fox have comissioned the TV series. Bow to your sen-sei!
The freakin' awesome series is set to be aired next season and has been described as "the misadventures of an awkward high school teenager and his quirky friends as they struggle to navigate life in rural Idaho". Hmm, sounds a bit "industry" to me, but would probably attract more of an audience then if I said it was "more incredible than a brown suit, liger and delicious bass put together".
You'll be please to know that the original writer/director Jared Hess will still be the main creative force, working alongside co-writer Jerusha Hess and The Simpson's writer, Mike Scully.
I can't WAIT for the animated series of Napoleon Dynamite! But me and Naps have got something special. Our love is like a flock of doves, after all. Always and forever.
About The Author