New clip from The Twilight Saga: Breaking Dawn – Part 2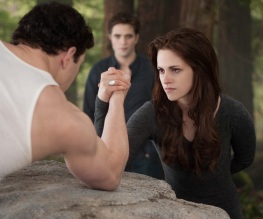 The Twilight Saga: Breaking Dawn – Part 2, the concluding film based on author Stephanie Meyer's all-conquering vampire series, is mere weeks away from filling cinemas across the land with children and idiots, and those kind folks at Lionsgate have released a new clip from the film itself to whet our appetites. Hoo fucking rah. The film isn't out until the 16th November, but cast your eyes below, for a glimpse of some poncy vampire bollocks.
As you can see, Bella Swan, played by Kristen Stewart, is now a "newborn". That's newborn vampire, not newborn baby. Although the newborn baby is also a vampire. But it isn't a baby. It's a rapidly developed child. Which is in love with the ancient werewolf. Who isn't actually a werewolf. Look don't blame me, I didn't write it.
The clip shows Bella, confident in her newfound super-strength, challenging strange, squinty-faced beefcake Emmett Cullen (Kellen Lutz) to an arm-wrestle. Lutz – ruining all the good work Bruce Willis did for the white vest – is obviously confident, but Bella proves to be a better arm-wrestler than she is a believable, three-dimensional character, and more than holds her own.
The clip cuts off before the grand climax, so you'll have to watch the film to find out which of our beloved heroes wins out. The plot also involves some sort of vampire war, but it's mostly just arm wrestling in forests. Oh, and probably some romance. And definitely a few aliens, and Brendan Fraser turns up in character as George of the Jungle, and it rains Wheetos every time someone looks forlornly into another character's eyes. Look, it doesn't really matter what we tell you, because you're either already going to see it, or you're not. There's nobody on the fence at this point. Enjoy it or don't. Either way, it'll all be over soon.
About The Author