Tom Cruise signs on for messing with timey-wimey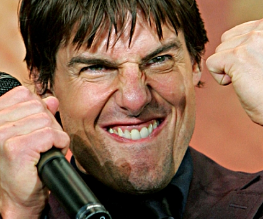 Tom Cruise is doing rather well for himself at the moment. Despite achieving self-actualisation by jumping the couch (the reason for which has now divorced him), and thus creating a bit of a lull in his career, he's certainly bounced back in style (possibly by jumping on another couch). Following the competently made Mission: Impossible – Ghost Protocol and the upcoming Jack Reacher (in which Tom Cruise IS Jack Reacher), Paramount has signed him on for space/time mind-cuss Our Name is Adam.
Details on the film at this point are few, although it is known that it involves an astronaut (possibly named Adam) who goes back in time (somehow) and hangs out with his younger self. Hopefully the comparisons to the plot of Looper will mean that Our Name is Adam turns out less clunky than its title would suggest.
Tom Cruise's cup runneth over at the moment, and good for him. Crazy, he may be, but the man can still sell a scene. Aside from Jack Reacher, he is currently filming All You Need is Kill (Doug Liman meets Battlefield: Earth, and involving yet another time loop) and is still attached to a possible Van Helsing remake. We're not sure how replacing Hugh Jackman with Tom Cruise will help remove the taint left by the last Van Helsing movie, but one can only hope.
Tom Cruise IS Jack Reacher in UK cinemas 26th December.
Are you sick of all the temporal anomalies in movies yet? Do you think Tom Cruise has read The Time Traveller's Wife and anticipates a sex scene with himself? We certainly do.
About The Author