New Dark Knight Rises TV spot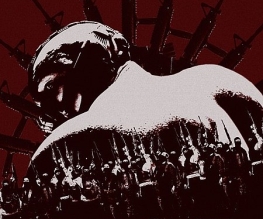 With the release of The Dark Knight Rises only a fortnight away, yet another TV spot has been released as part of the promotional campaign – Batvertising if you will…
We've had trailers, virals, tv spots, posters, even official images of the costumes and a sample of the score. Some fans have waded into the forums to argue that we've been so bombarded that we've probably seen most of the film by now. NONSENSE you silly BatFans. Nolan knows that we don't need a trailer to convince us that we're all going to be queuing round the block come the 20th July, so these teasers are actual teasers; little promises that it's going to be amazing, rather than amalgamations of the best bits.
We can be fairly certain that the football stadium imploding isn't going to be even close to the most exciting set piece. We haven't seen anything of Juno Temple, or a proper shot of Anne Hathaway in the cat suit and we can't even be completely certain of the extent to which Hathaway is going to ruin the film.
This latest TV spot has more dialogue from Lucius Fox (Morgan Freeman) and Alfred (Michael Caine) and references the fact that this film picks up eight years after the end of The Dark Knight , with Christian Bale coming out of retirement to save the city, complete with some incredible new toys. Oh God we're so excited!
About The Author