New Poster For Top Cat: The Movie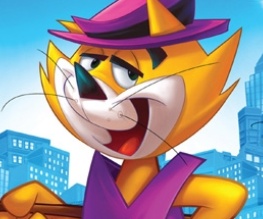 For those of you who haven't been to a 3D film in the last week or so (and we hope that's all of you), you'll probably have missed the brand-new trailer for Top Cat: The Movie. Boasting the return of the legendary miaowster, known to his friends as T.C, the film looks set to tickle the tastebuds of anyone desperate for a big old slice of 80s nostalgia.
But, you know, it's coming in "purrrfect 3D"… and it looks like a pop-up book.
It looks like Reservoir Dogs. Only, you know, with cats.
Top Cat, for those of you who don't remember, was a Manhattan alley cat (rumoured to be based on Frank Sinatra) who led a gang of felines in a series of illegal escapades. Aided by Benny, Choo-Choo, Brain, Fancy-Fancy and Spook, it was essentially animation's answer to any number of mafia films.
The gang worked hard to keep corrupt policeman, Officer Dibble, on their side and he also makes a return to the big screen this summer. The film places the entire T.C operation under threat from a new police chief, who wants to retire Dibble and clean up the alley… once and for all.
SUCH DRAMA!
The film, despite our misgivings, has been wildly successful overseas. Perhaps we've judged it a little too harshly? Or perhaps not. We guess we'll just have to wait until June 1 to find out!
Does the Top Cat poster leave you feline good?
About The Author