New Rock Of Ages trailer feels quite long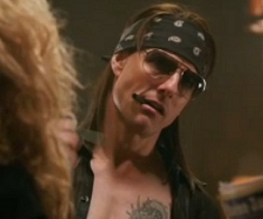 Featuring the hits of Def Leppard, Journey, Foreigner, Bon Jovi, Night Ranger, Pat Benatar, Twisted Sister, Poison, Whitesnake and more, there's no doubt that jukebox musical Rock Of Ages is going to supply us with rather more slammin' guitar solos than the likes of Mamma Mia. So will the tale – the course of love never did rock smooth – do enough to keep us interested in anything more than how much this ends up looking like a rather long episode of Glee? A new trailer is here to help you out.
Tom Cruise is obviously having the best time of his life as precious rock legend Stacee Jaxx, and it's rather nice to remember that Catherine Zeta Jones is properly good at stuff like this. In fact all the cameos look like good fun (oh Paul Giamatti, you heart-stealer you) – but fun enough to sustain what is evidently a bolted together storyline? It aint got the class of Chicago, it's unlikely to have the technical prowess of West Side Story and at no point does Colin Firth say "excuse me, is there a trouser press on the island?" Even in the trailer it all starts to drag a little, which doesn't exactly bode well for the feature length version. All in all, we reckon those who are already fans will be delighted, and those who aren't… well… people love to shout about things on the internet, right?
Will you be biting heads off small creatures to Rock Of Ages? Let us know below…
About The Author