New still of Meryl Streep as Margeret Thatcher released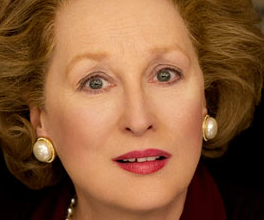 Filming on The Iron Lady, a biopic about the Reagan-courting, miner-bothering first female British Prime Minister Margeret Thatcher, has been underway since the end of January, and the first still of American screen legend and generally accepted blueprint for acting excellence Meryl Streep in the lead role has been released. The only reasonable response to this is, you know that sensation when your manhood tries to worm its way back up into your abdomen? Or, if you're a female of a certain age, hiding the milk. Because, as you'd expect with Streep, the resemblance is uncanny.
The film also stars Jim Broadbent as Thatcher's trophy-husband Dennis and Richard E. Grant as opposition leader Michael Foot, as well as Buffy mentor Anthony Head, for some reason. The action takes place during the lead up to the Falklands conflict, so expect fists banging on desks and weedy, emasculated generals muttering rude words behind Maggie's back.
About The Author