New trailer for Sundance victor Tyrannosaur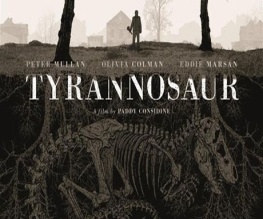 This is Paddy Considine's first full length feature after directing a 16 minute drama Dog Altogether which won an impressive four awards for Best British short. Many cast members are reunited in his new feature, including Peter Mullan (Trainspotting and Boy A) and Olivia Colman (Hot Fuzz and Peep Show). Having premiered at the Sundance Film Festival this year, Considine won the World Cinema Award for Directing, alongside Mullan and Colman who both won the Special Jury Prize for Breakout Performances. After receiving rave reviews from many critics, Strand Releasing decided to snap it up for distribution. For Best For Film's review click here.
The film follows Joseph (Mullan) in his path of self-destruction; leaving a trail of violence and anger in his wake. Just when it seems that all hope of recovery is lost, Joseph crosses paths with a Charity shop worker, Hannah (Colman), who seems to represent a chance of redemption. But dark secrets lurk beneath the surface of their friendship, leading to devastating consequences for all involved.
Due to hit cinemas late October this year.
About The Author