Nicolas Cage for Richard Kelly's true-crime movie Amicus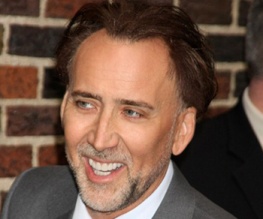 Yes! More Nicolas Cage news! This is exactly what we needed to brighten up our Thursday! Although, yet again, it's Nicolas Cage in serious mode, so perhaps we should put the snark away. Following the recent news that William Friedkin is lining up the great man for his upcoming thriller, now Donnie Darko mastermind Richard Kelly is preparing to begin shooting his new true-crime story Amicus with Cage in the lead.
Kelly's film is based on a true-story, and while it won't feature portals through time or buttons with the power to kill, he's picked a project that has plenty of the fantastic about it. The shocking story concerns a Motown Records executive who hired an assassin to murder his wife, their quadraplegic son and the family nurse, in order to gain the huge inheritance that the son had amassed from winning a medical malpractise suit. It later emerges that the man had consulted a book called Hit Man: A Technical Manual for Independent Contractors in order to help him not cock-up his murders. The families of the victims, understandably, decided to sue the book's publisher, with their lawyer being played by… Nicolas Cage! Not exactly National Treasure 3, is it?
The complex and shocking case ran for 5 years, with plenty of bizarre surprises and twists in the evidence dragging things out, and should translate well to a film.
Amicus has all the pieces in place to become the first great court-room drama since… what, Primal Fear, in 1996? The sub-genre seems to have died out in recent years, but this sounds very promising – and will only be helped by the fact that it's a true story. Kelly has mostly kept himself to small indie-fare thus far in his career, but he's always an interesting director, and he should have no trouble translating such an inherently interesting story to the screen. And as for Nicolas Cage, he can be a great actor when he puts his mind to it, and believe it or not, he's never played a lawyer before – demon-bonded hell-biker, sure, but never a lawyer – so this should provide something new for him to get his teeth into.
We look forward to seeing Cage flex his acting muscles in what promises to be a fascinating drama. Production is due to begin in January.
About The Author