Melissa McCarthy is Jason Bateman's Identity Thief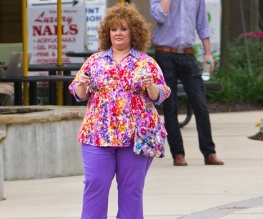 Melissa McCarthy's star continues to rise, and following her starring role in CBS sitcom Mike & Molly and breakout role in the hugely successful Bridesmaids – in which she shat vigorously into a sink (funny the ways that stardom comes, isn't it?) – we've got a brand new trailer for her follow-up comedy Identity Thief, in which she'll play the titular thief opposite Jason Bateman's unfortunate victim. Take a look below and see what you think.
The plot sees Jason Bateman discovering that he's been a victim of identity theft, having had his cards maxed out and court summons issued in his name. Setting out to confront the innocent looking imposter – "She's like a Hobbit!" – he finds that McCarthy's duplicitous thief has a penchant for punching him in the throat, and is altogether more of a match than he might have expected.
Frankly, we're surprised it's taken so long for this idea to reach the screens. Identity Theft has been something of a hot-topic in recent years, and while in real-life it's a serious issue, on film the scenario is ripe with comic potential. The casting for this one also seems pretty spot on. As fans of Arrested Development can attest, Jason Bateman is the best in the business at being tried to breaking point by the craziness of those around him, and McCarthy should prove a nicely wacky foil for his weary straight-man shtick.
Directed by Horrible Bosses helmer Seth Gordon, the trailer is perfectly amusing, and if it isn't side-splittingly funny, we're hoping that this is an instance where they've actually saved the funny bits for – y'know – the actual film. The two leads are likable, and Gordon should know how to get the best out of Bateman (who also starred in Horrible Bosses), so we're confident that Identity Thief will provide the chuckles when it arrives in February 2013.
About The Author