Orlando's quickie engagement Blooms into marriage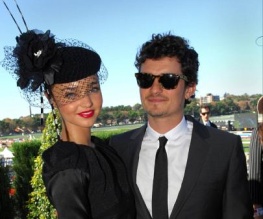 Swashbuckling star Orlando Bloom has wed his fiancée Miranda Kerr. The babyfaced star, who sashayed onto our screens in 2002 playing dead-eye elf Legolas, married Australian underwear model Kerr at an undisclosed location before jetting off on an "intimate honeymoon". The wedding was rather eccentrically announced in the midst of a statement from Kerr which explained why she was cancelling an appearance at Australian department store David Jones.
Bloom (33) and Kerr (27) have reportedly been an item since late 2007, but only announced their engagement a month ago. The actor has been a heartthrob since his high profile roles in the Lord of the Rings and Pirates of the Caribbean trilogy, but has gracefully made way for R-Pattz to take over as anaemic British wunderkind of the moment – hopefully not too many teenagers will be crying themselves to sleep tonight.
Interestingly, Bloom's last high-profile relationship was with actress Kate Bosworth – another Aussie. Looks like Orlando has quite the taste for Down Under, eh readers? Eh? (*shoots self*)
About The Author