Oscars all round for James Earl Jones, Dick Smith and Oprah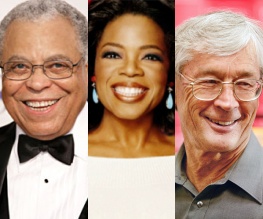 The Academy of Motion Picture Arts and Sciences has announced that its newest honorary laureates will be actor James Earl Jones, legendary makeup artist Dick Smith and talk show host/ actress/ producer/ billionaire/ philanthropist/ big fan of books/ EVERYTHING ELSE IN THE WORLD Oprah Winfrey.
Earl Jones, perhaps best known for his iconic voice roles (think Darth Vader and Mufasa) was nominated for an Oscar for 1970's The Great White Hope, but has never won. Smith holds one Oscar for his makeup work on Amadeus (1984). Both will receive the Honorary Award, given for "extraordinary distinction in lifetime achievement, exceptional contributions to the state of motion picture arts and sciences, or for outstanding service to the Academy", at a private ceremony.
Winfrey, who was nominated for the Best Supporting Actress award for her debut film performance in The Color Purple (1985) but has done very little since, will receive the Jean Hersholt Humanitarian Award for bringing credit to the industry through her good works.
Right, unpopular opinion coming up. We know Oprah's amazing and teaches battered women to read and resuscitates really cute baby animals and everything, but… an Oscar? Really? Way to devalue yourselves, guys.
About The Author