Oscars are delightfully predictable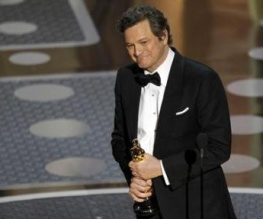 The King's Speech swept the board at last night's Academy Awards, with four major wins including Best Picture, Best Actor (Colin Firth) and Best Director (Tom Hooper).
David Seidler won Best Original Screenplay for the period drama, whilst its biggest competitor The Social Network had to be content with Best Adapted Screenplay, Best Editing and Best Original Score.
Rounding off the major awards, Natalie Portman took the Best Actress prize for Black Swan and Christian Bale and Melissa Leo left with a matched pair of Best Supporting gongs for The Fighter.
Toy Story 3 was named Best Animated Feature and also won Best Original Song for 'We Belong Together', whilst sci-fi thriller Inception landed four technical prizes including Best Cinematography, Sound Mixing, Sound Editing and Visual Effects. Alice in Wonderland won Best Art Direction and Costume Design, with Best Makeup going to The Wolfman.
Danish film Civilisation won Best Foreign Language Film, and Inside Job and Strangers No More were honoured in the Best Documentary categories (Feature and Short respectively). God of Love and The Lost Thing rounded off the winners with the Best Live Action Short and Best Animated Short prizes.
The full nominations are here, in case you're a bit of a thicky. Hurrah!
We've kept our opinions in check – what are yours? Let us know below! Or you could simply mourn How To Train Your Dragon like all right-minded people…
About The Author