Ouija adaptation channels a message from development hell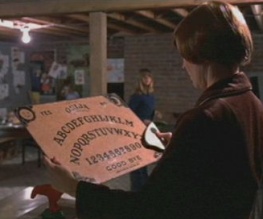 It looks like Universal and games titan Hasbro are set to team up again in the wake (ha!) of Battleship, their forthcoming film about Rihanna fighting aliens in a dinghy or something. Plans to create a film version of Ouija, Hasbro's branded 'spirit keyboard', have been resuscitated more than six months after the adaptation was shelved over budget concerns.
With financial considerations torpedoing (that was another Battleship reference) overambitious Hollywood proejcts left, right and centre, it's hardly surprising that Ouija's $100m budget fell foul of Universal's accountants. The new version, which will no longer be directed by McG (apparently he was doing the last one), will cost just $5m – to give you some context, that's the same amount Universal agreed to pay Hasbro for the privilege of dropping the project last year. Other Universal/Hasbro films to have fallen at the first hurdle include Monopoly, Clue(DO) and Magic: The Gathering, which we would totally watch.
Producers include some guys from Hasbro, Michael Bay and his Platinum Dunes partners Brad Fuller and Andrew Form (producers of horror remakes from Texas Chainsaw to Amityville) and Jason Blum, the cinematic Rumpelstiltskin who spun gold from straw with ultra low-budget productions including Paranormal Activity. Let's wait and see if they can find a message worth relaying from the other side, shall we? It'll probably be Uncle Pennybags sobbing over the burnt scraps of the Monopoly script…
About The Author