Pacino to play gangster once again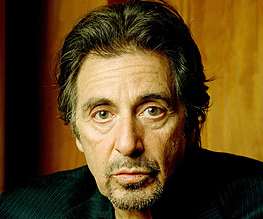 Praise the lord, Al Pacino is going to be a gangster once again.
The man who played none other than Michael Corleone in The Godfather and Tony "Scarface" Montana will be donning his gangster hat again for the upcoming Gotti: Three Generations, where he'll be playing Neil Dellacroce, under-boss to the Gambino crime family.
The film is based around the true story of John Gotti Jr., who, after being bought up to live a life of crime by his Dad, John Gotti Sr., decided to leave the family business and redeem the Gotti name.
So far John Travolta has been cast to play Gotti Sr., with Kelly Preston (you might know her as the super mum in Sky High…or not) playing his wife. Also recently in the fold is the lovely star of The Parent Trap Lindsay Lohan who will be Kim Gotti, wife of the so-far-un-cast Gotti Jr.
But perhaps as exciting as Pacino stepping in is the inclusion of Joe "how am I funny?" Pesci as a Gotti Lieutenant. With two classic gangster actors on board, Gotti: Three Generations is not looking too shabby. Let's hope Pacino and Pesci are back on top form.
About The Author