New Real Steel Trailer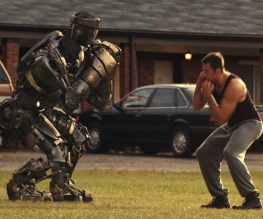 Forget about your Rocky and your Raging Bull; in the future it won't be humans punching the living daylights out of one another, it'll be huge robots getting in the ring. Well that's the premise behind Hugh Jackman and Evangeline Lilly-led flick Real Steel.
The new full-length trailer for Shawn Levy's (Date Night, Night at the Museum) neo sci-fi has just been released, and it looks less Thriller in Manilla and much more Transformers meets WWF.
Jackman is back to his macho best as a washed up former boxer who wants to make good with his son. How? By building a fighting machine to go up against the big bad bots that stole his career. Cue copious vest wearing and awesome CGI.
A big, dumb tale of triumph over adversity, Real Steel is released on October 7th, and a sequel is already in the works.
About The Author