Paramount Snaps Up Paranormal Director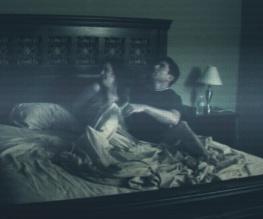 Just in time for a spine-chilling weeked, Paranormal Activity was released in the UK last week. Whether it'll replicate its startling performance at the US box office is a matter for audiences (and if they're brave enough to go and watch it) – but one thing's for certain: we'll certainly be seeing more of its now hot-property director Oren Peli.
Peli's follow-up to Paranormal Activity, the alien thriller Area 51, has been snapped up by Paramount like an invisible demon snapping at an exposed thigh bone. We also found out last month that Paramount has already greenlit a sequel to Paranormal Activity, though whether Peli will be involved with it is, at the moment, anyone's guess.
The bidding for Area 51 wasn't easy for Paramount – apparently negotiations have been going on for over a month. Area 51 is currently in post-production, and it's all pretty hush-hush in terms of plot, or even whether we're going to be treated to more of Peli's "found footage" stylings. Either way, Paramount are apparently keen to get it out to theatres quick – maybe a backwards move, we think. Too much of a good thing, and all that…?
About The Author