Paul lands its first official poster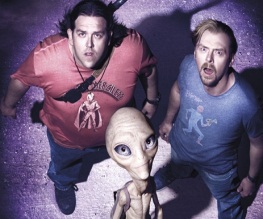 The first official one-sheet for Paul has arrived online (via Empire) and it's a doozy.
Featuring Simon Pegg and Nick Frost astride the titular alien, the poster lands on just the right side of believable – leaving Paul looking far more realistic than the entire cast of Sex and the City.
Synopsisised beautifully as "two British comic-book geeks traveling across the U.S. encounter an alien outside Area 51", Paul co-stars Sigourney Weaver, Jane Lynch, Jason Bateman, Kristen Wiig, Bill Hader, Jeffrey Tambor and Seth Rogen's voice. Directed by Greg Mottola, the film has already been teased by way of trailer.
With a premise that oozes as much potential as both its predecessors, Shaun of the Dead and Hot Fuzz, Paul certainly looks like one to watch out for. Until then, however, we can now leave you with a new international poster.
Now, is it just me or does this image invoke worrying comparisons to Tenacious D in the Pick of Destiny? No? Just me? Phew!
Paul will road-trip into theatres February 14, 2011.
About The Author