Peter Dinklage to play main antagonist in X-Men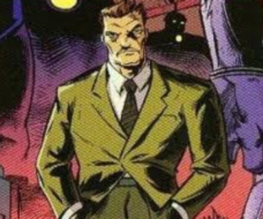 If we could, we'd write about Peter Dinklage every day. Sadly we can't, lest we be become shamefully biased (very un-BFF). So today is our lucky day. Last week, Peter Dinklage was added to the already fantastic X-Men: Days of Future Past cast, and almost immediately, we – along with the rest of the world – began speculating on roles. Our money was on the small but mighty Puck; Alpha Flight member and Wolverine acquaintance. We were WRONG. Peter Dinklage is set to play "the main antagonist" in X-Men: Days of Future Past.
Toss your stature-oriented guesses to the side. Variety have now revealed that Peter Dinklage may be set to play Marvel character Bolivar Trask. Bolivar Trask is not renowned for height of any kind, but rather as an anthropologist and inventor of the Sentinels, i.e. mutant-hunting robots. These Sentinels will play an important part in X-Men: Days of Future Past; their sole aim is the obliteration of all mutants. In the comics, Trask's children are also mutants and therefore play a key part in Trask's story and Days of Future Past books – mainly because they help Trask become remorseful. Will Trask be depicted solely as the bad guy? As of yet, it's unclear how far the film will deviate from the comics.
Smooth move? Bolivar Trask already appeared in X-Men: The Last Stand, previously played by Bill Duke – whose physicality (he's 6'4) is somewhat unlike Dinklage's. He was also African American and not particularly remarkable as a fierce antagonist, so Singer may be bringing in a complete re-imagining of the character in the form of Dinklage. The director has also reported that he'll be using the time travel device in X-Men: Days of Future Past to his advantage; "I'll be able to correct a few things," – oooh, you sneaky fox – which may tie in with a complete re-casting of Trask.
We await further X-Men updates. What are your thoughts on Peter Dinklage playing Boliver Trask?
About The Author