Pixar releases clip from The Blue Umbrella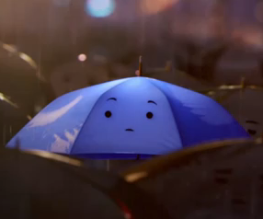 Hurrah! A clip from new Pixar short The Blue Umbrella has just been released and it's ALL KINDS OF ADORABLE. This new short is the first directed by Saschka Unseld, who once dwelled in the technical arts division of Pixar, but has since shown herself to be deserving of title as Director. Perhaps this clip will make us look differently at the way we treat umbrellas, because they are also deserving of a love life and have feelings too.
Why is it so cute? This Pixar short will see two umbrellas meeting on a rainy day; the blue umbrella falls for the red umbrella and their eyes lock and sparks fly and OH JUST WATCH IT. The full short will show the umbrellas separated by wind and stormy rain and Mother Nature, so be prepared to shed a tear or two.
You'll have to wait until July 12th to see the rest, unfortunately. It'll be shown ahead of Monsters University, so in actual fact this entire Pixar spectacle will just be so fluffy, you're gonna die. Unfortunately, the title ominously only refers to the blue umbrella, so we're assuming it's not going to end well for the poor guy. Jeez Weather, can't an umbrella get a break around here?!
Do you think The Blue Umbrella will be as good as previous Pixar shorts? Tell us what you think below!
About The Author