Quentin Tarantino Basterds spin-off in the pipeline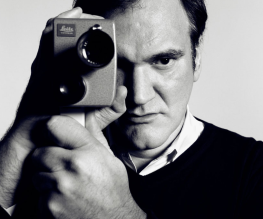 When Quentino Tarantino first talked about making a trilogy with Inglourious Basterds and Django Unchained, an awkward silence ensued. We assumed he meant trilogy in the loosest, most unofficial way. But we're were happy to go along with it as more Tarantino is never a bad thing.
Finally, in a recent interview with The Root, the controversial director spoke out about his plans for a third film. He also hinted that its likely to be a spin-off of a storyline from Basterds.
"My original idea for Inglourious Basterds way back when, was that this [would be] a huge story that included the [smaller] story that you saw in the film, but also followed a bunch of black troops, and they had been fucked over by the American military and kind of go apeshit."
Articulate as ever, he then revealed exactly how apeshit they'd go. "The black troops go on an Apache warpath and kill a bunch of white soldiers and white officers on a military base and are just making a warpath to Switzerland. So that was always going to be part of it…
… It would be [connected to] Inglourious Basterds, too, because Inglourious Basterds are in it, but it is about the soldiers."
And the name of the film? "It would be called Killer Crow, or something like that."
Killer Crow would be set after the Normandy invasion in 1944, and might mean a return from previous Basterds Brad Pitt and Eli Roth. Whether or not this will be his next film is, as always, unclear. He's previously circulated the first few pages of a script about Vernita Green's daughter from Kill Bill seeking revenge on Beatrix 10 years later, has reportedly said that he'd like to do a Kill Bill 3, and basically just likes getting us all hyped up and then leaving us with nothing but words. ACTIONS SPEAK LOUDER THAN WORDS, QUENTIN!
On the other hand, he's been rumoured to be interested in making his Next Big Thing a 1930s set gangster film, which is just possibly the best idea ever. But don't listen to him, he's leaving broken hearts all over the shop.
Naturally, though, when he does deliver, he delivers gooood. We like the way you tease us, QT. So while we're waiting to hear more about Killer Crow and Kill Bill 3 and the wonder that'll be a Quentin Tarantino gangster epic, let's wait until January 18 for Django Unchained and just marvel at this magic man.
What should Quentin's next move be? Sequel, prequel, spin-off, or something completely new and outrageous?
About The Author