Rhys Ifans as The Lizard in Spider-Man reboot?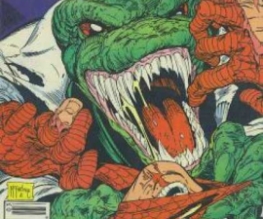 Just two days ago, we at Best For Film reported that Mr. Nice himself, Rhys Ifans (no, not Howard Marks, though that'd be fun), had been cast as a villain in Marc Webb's upcoming Spider-Man reboot. The identity of his character, though, was a closely guarded secret. Well, that didn't last very long! Reports are now flying in that the Welsh star will be playing none other than The Lizard, Spidey's deadly reptilian foe.
The Lizard is the mutated alter-ego of Dr. Curt Connors (teasingly played by Dylan Baker in Sam Raimi's series) and his story – if handled well – could prove rather tragic. A former army surgeon who lost his arm at war, Connors is a biologist, fascinated particularly by reptiles with the ability to regrow their tails after an injury. Determined to find a breakthrough for amputees everywhere, Connors eventually experiments on himself, successfully managing to regrow his missing limb. But it comes at a cost. Soon the benevolent doctor finds himself transforming into a grotesque reptilian hybrid. Driven mad, he becomes a murderous threat that only Spider-Man can stop. Generally, he's none too pleasant, as the classic Todd McFarlane illustration on the left demonstrates!
The Lizard is a childhood favourite in these parts, so (if the rumours are true) here's hoping this won't be a CGI trainwreck! With Ifans' villain potentially joining Andrew Garfield's webslinger and Emma Stone as love interest, Gwen Stacy, the pieces of the new film are slowly falling into place. But who will play our hero's later love, Mary Jane? And who'll play Aunt May?! Stick with Best For Film for all the latest updates.
About The Author