Rosamund Pike inexplicably joins One Shot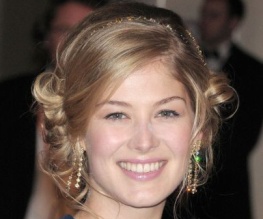 Well, this news is getting weirder and weirder… Forthcoming film One Shot, starring paperback grunt Jack Reacher, has now managed to antagonise pretty much everyone in the world. The sort of dreadful people who buy Lee Child's absurd 'novels' are incensed that Tom Cruise has been cast as blond behemoth Reacher, and now the rest of us are heartbroken at the news that Rosamund Pike is costarring.
Pike will be reusing her American accent (honed to perfection for last year's turn in Barney's Version opposite Paul Giamatti) to play a local DA defending a sniper who Reacher is trying to prosecute. Bet none of you can guess how that's going to pan out. Blah.
Seriously, who's that woman's agent? Rosamund Pike has made some stunning films – her ditzy turn in An Education is still memorable today, and last year alone she pulled three crackers out the bag with Jackboots on Whitehall, Made in Dagenham and the aforementioned (and superb) Barney's Version. But she's also been an evil Bond girl (Die Another Day), Karl Urban's lab-coated sister in that fucking Doom adaptation and now she's about to be in Johnny English Reborn. And this is before we even discuss Wrath of the Titans…
Pike is one of our most talented and versatile actresses – will someone PLEASE stop her starring in utter shite?
Is it obvious that we've got a huge crush on her? Don't tell or we'll blush.
About The Author