Rudd and Galifianakis for Kooky New Comedy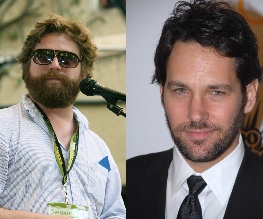 They're two of the best comic talents to come out of the noughties – now Paul Rudd and Zach Galifianakis are teaming up in a new film to keep the tears of hilarity coming well into the new decade.
The scene-stealing star of The 40-Year-Old Virgin and I Love You, Man has signed on to star with the delightfully nuts Hangover man in a comedy for Paramount called Will. Empire's called it a mix between Will Ferrell's slightly odd 2006 film Stranger Than Fiction and Jim Carrey's more poignant turn in The Truman Show.
Rudd will play a man who exists in a world where everyone's fate is decided by writers in Heaven. When his writer (Gafilianakis) walks off the job, Rudd's character must make up his life's script as he goes along, prompting him (typically Hollywood-style) to fulfill his hidden potential.
The premise sounds a little risky to us, but seeing as we haven't seen a Paul Rudd movie in several years that wasn't spit-the-crisps-out-of-your-mouth-by-accident funny, we have a feeling it could just work. And with Galifianakis – who stole the show in The Hangover despite having much bigger names Bradley Cooper and Heather Graham to contend with – on board, so much the better.
Script-wise, Late Night with Conan O'Brien writer Demetri Martin will be taking up the pen, which we're curious to see the results of. It's good to see he's returned to his stand-up roots after attempting a bout of so-so acting roles, the most recent being in last year's Taking Woodstock.
What's your verdict on Will – could it be just ridiculous enough to work? Let us know.
About The Author