Sandler and Samberg to play father and son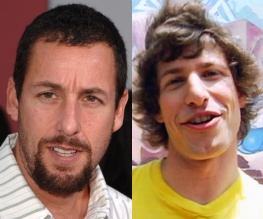 There may only be an age difference of twelve years between the two but that hasn't stopped Andy Samberg signing on the dotted line to play the fruit of Adam Sandler's loins in the bluntly titled I Hate You Dad, and we promise that is the last time we will ever use the words 'Sandler' and 'loins' in the same sentence. The film is to be produced by Sandler's own Happy Madison production house, so, y'know, he would be in it.
The pair share a common bond of both being part of the Saturday Night Live cast, though Sandler left the show way back in 1995 and embarked on an uber-succesful film career. Samberg is possibly the pick of the current SNL crop – thanks largely to the hilarious music videos he creates along with his comedy 'crew' The Lonely Island – but his own film career has gotten off to a rocky start. Hot Rod was funny in patches but failed to find an audience, and since then he has settled into a string of cameos, most noticeably as Paul Rudd's brother in I Love You, Man, most hilariously as 'Homeless Guy' in the otherwise doltish Nick And Nora's Infinite Playlist.
About The Author