Second Trailer For Hot Tub Time Machine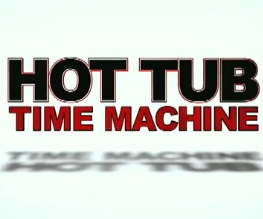 The title alone is enough to have even those with the stoniest of hearts weeping with pure, desperate joy. What might just be the greatest movie of our time, Hot Tub Time Machine, has released another trailer, and by the very bolts of Zeus, our greatest expectations were not disappointed.
The new offering from the director of High Fidelity and Grosse Point Blank is an all-star romp around the 80s, courtesy of -all together now- a hot tub time machine. Starring among others, John Cusack, Craig Robinson (of Knocked Up and the American Office) and Chevy Chase (Chevy Chase!), the film centres on a gang of men whose lives haven't turned out quite the way they planned. One fateful night, at yet another failed party, they gather around to tell their sorry tales and – oh who cares! It's called Hot Tub Time Machine! What more do you need to know?!
This epic of our time is released in the states in March, but there's been no news of the UK release date as yet. But be sure, when we know, we will shout it from the mountain tops. Hot Tub Time Machine. What a world this is.
About The Author