Seth Grahame-Smith rewriting Fantastic Four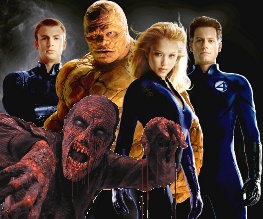 Marvel are busy recruiting people to help them out with the Fantastic Four reboot, bagging X-Men: First Class co-writer Matthew Vaughn as producer, Josh Trank (of Chronicle fame) as director and Mark Millar, comic book writer extraordinaire, to act as overseer of the project. All fine choice. All mighty fine choices indeed. So that's why we're left feeling just the tiniest bit baffled about the fact they've selected Seth Grahame-Smith for the writing gig.
Let's remind ourselves about Grahame-Smith's career so far, shall we? He shot to fame on the back of the success of his mash-up novel, Pride And Prejudice And Zombies, which is a story about exactly that. Elizabeth Bennet. Mr Darcy. The reanimated corpses of their nearest and dearest. And so on and so forth. Next up, he got to work on adapting the script for his novel Abraham Lincoln: Vampire Hunter, which didn't exactly take the critics by storm. And, perhaps the most damning nail in the coffin of all, Grahame-Smith also worked with Tim Burton on the script for Dark Shadows. This film didn't just "not do very well" at cinemas – it actively absorbed and destroyed the souls of everyone who went along to see it.
However, they do say that people learn from their mistakes (just look at Ben Affleck!), so we're not quite prepared to give the Fantastic Four reboot up as a lost cause just yet. After all, the superhero quartet – comprising of Mr Fantastic, Invisible Girl, the Human Torch and the Thing – is probably one of the most lighthearted comic book romps out there. So maybe a few extra zombies, vampires and presidents (trained in the martial arts) might be exactly what the franchise needs to make the reboot a success. Maybe.
Do you think Seth Grahame-Smith will transform the Fantastic Four for the better? Let us know below!
About The Author