Sherlock Holmes sequel releases six new photos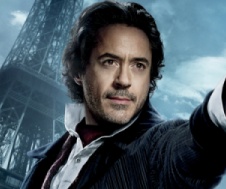 Huzzah! Guy Ritchie's upcoming sequel, Sherlock Holmes: A Game of Shadows, has released six delicious new promotional photos. The film – out on 16th December – will follow Holmes and his brother-from-another-mother/moustache aficionado Dr Watson (Jude Law) as they go up against arch nemesis/evil genius Moriarty (Jared Harris). Also in the cast are Stephen Fry as Holmes' brother-from-the-same-mother Mycroft and Noomi Rapace (of Girl with the Dragon Tattoo fame) as a gypsy named Simza. So let's have a good old look at these photos and see what we can deduce…
First up is Robert Downey Jr (playing Holmes just in case you've been living in a cave in Belize). Notice that he's standing in front of the Eiffel Tower, which we think might mean that part of the film takes place in Paris. You're SO welcome to that scoop. (NB That could be the Blackpool Tower)
The next shot is of Law as Watson. Look! He's holding a cane. Maybe that means he'll be using the cane to cane people? Also he's standing by some trains. Don't miss your train Watson!
And here's Rapace as Simza, looking a bit like Esmeralda. And she has knives, three knives! That's so many knives to be holding at one time.
Here's Simza again, in a wood. With knives again. Simza, your knife obsession is starting to worry us.
Look out! He's got a hat! And a gun!
And here's Moriarty at his mountain getaway. Notice the absence of a gun. We think that's because he uses his brain as a weapon. Apart from in that last photo where he had a gun.
So what do you think of these photos? Let us know below!
About The Author