Star Trek Script on its way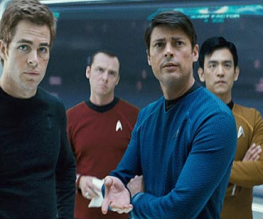 Star Trek 2 is well on its way to having a completed script, as screenwriter Roberto Orci claims he's got a 70-page outline done.
It's been a while since the first brilliant Star Trek prequel and we were beginning to think it had been forgotten about, what with director J.J. Abrams busy making a little film called Super 8. But that is not true, Trekkies! Rejoice!
Orci told TrekMovie he's "just waiting for J.J. to be free to really decide if he likes the story and hear his suggestions before we finish the script.
"Once he says go, we'll have it in no time", he continued. "Meanwhile, our outline is detailed enough (70+ pages!) to do some prep."
Orci and co-writer Alex Kurtzman are the go-to-guys for Hollywood sci-fi, having written films such as Transformers, Mission: Impossible and Cowboys and Aliens together. Let's hope the next Trek film will live up to its awesome predecessor.
About The Author