Steve Jobs biopic in cinemas on Apple's 35th Anniversary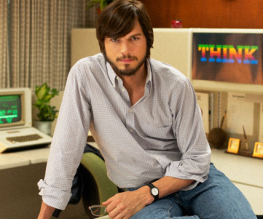 The Steve Jobs biopic, cleverly named jOBS, will be released in cinemas on April 19 this year, happily coinciding with Apple's 35th anniversary. The Apple creator is played by Ashton Kutcher, in an almost uncanny resemblance to Steve Jobs. The biopic will be shown on the last night at Sundance Film Festival on January 25, giving it its first worldwide showing.
jOBS began shooting in June 2012 and so far all we've had are some photos of Ashton Kutcher looking remarkably similar to the man himself and showing off a striking beard. Directed by Joshua Michael Stern, the film chronicles Steve Jobs' rise and rise from a college dropout to one of the most successful American businessmen, founding not only Apple but Pixar and computer software program NeXT.
The Social Network writer and Oscar-winner Aaron Sorkin is also writing a separate Steve Jobs biopic, to be developed by Sony and based on the official Steve Jobs biography written by Walter Isaacson. This film is still in the works, so satisfy your inner technology geek with jOBS first.
Are you looking forward to, not one, but TWO Steve Jobs biopics? Do you think Ashton Kutcher will deliver? Let us know below!
About The Author