Sundance 2013: Fruitvale wins Grand Jury Prize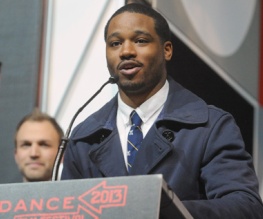 Fruitvale, a film about a shooting in California has won the U.S Grand Jury Prize and the Audience Award at Sundance Film Festival. First-time filmmaker Ryan Coogler wrote and directed the film, which is based on the true story of Oscar Grant, 22, whose death inspired race riots in the Oakland area. In his last 24 hours alive, Grant attempts to be a better father, boyfriend, son and friend.
Coogler accepted the award saying "To get this award means that it had a profound impact on the audience that saw it, on the people that were responsible for picking it up. And this goes back to my home, to the Bay Area, where Oscar Grant lived, breathed, slept, loved, fought, had fun, and survived for 22 years."
Last year, the same Grand Jury Prize was awarded to Beasts of the Southern Wild, which is now a nominee for the Best Film Oscar. On the judging panel were writer/director Ed Burns, Boston Globe film critic Wesley Morris, cinematographer Rodrigo Prieto, Fox Searchlight founder Tom Rothman, and Clare Stewart, the current head of exhibition at the BFI.
Other winners included a Grand Jury Prize for Blood Brother, a documentary about HIV directed by Steve Hoover, and a Special Jury Award in World Cinema Documentary for Pussy Riot- A Punk Prayer, a film following the trial of the Russian protest group, directed by Mike Lerner and Maxim Pozdorovkin. An honourary Lifetime Achievement Award was given to Dick Van Dyke, 87, whose career has spanned eight decades.
About The Author