The Amazing Spider-Man 2 set photos confuse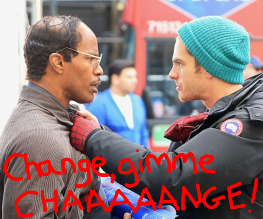 The Amazing Spider-Man 2 is well into production, and a couple of shots straight from the on-location shooting in New York have surfaced. Behold! Andrew Garfield looks like one of the gutter-folk! Why is he prominently displaying his costume? Who knows! Is this the public reveal of The Amazing Spider-Man!? Nah it's probably just a dream sequence or something. It's always a goddamn dream sequence…
Here's Andrew Garfield posing like a dirty beefcake hobo Spider-Man. Click to embiggen: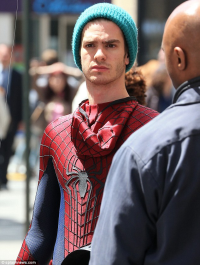 Here's smelly whisky-soaked syphilitic Spider-Man (that's not libellous is it?) threatening poor balding nerd Electro. Click to embiggen once again: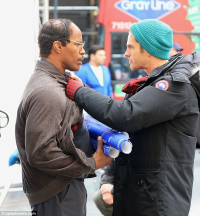 These two little snippets come off the heels of the last awesome shots of The Amazing Spider-Man 2, where we saw Jamie Foxx in full Electro regalia. At least we know poor balding nerd Foxx gets some revenge against the head-twitching bully Andrew Garfield.
Directed by the most aptly-named director in history Marc Webb, and starring (here we go) Emma Stone as Gwen Stacy, Shailene Woodley as Mary Jane, Dane DeHaan as Harry Osborn, Chris Cooper as Norman Osborn and Paul Giamatti as THE GODDAMN RHINO, The Amazing Spider-Man 2 is shaping up rather nicely. Expect to see it swing into theatres May 2014, Spidey fans!
What could these photos from The Amazing Spider-Man 2 possibly mean!? Reckon Spidey just forgot that he didn't have his mask on?
About The Author