The Enterprise is on a Star Trek Into Darkness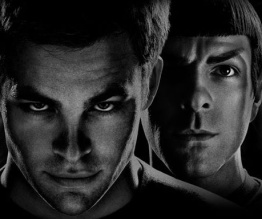 We may not know a great deal about the follow up to J. J. Abrams' Star Trek yet, but we now know what it's going to be called.
Boldly going where every franchise has gone before, it would appear that the Star Trek sequel is going to be darker.
The sequel to Abrams' wildly successful reboot has been given the title Star Trek Into Darkness. Note the curious lack of a hyphen or a colon, which makes the title read as a sentence (alright, calm down Microsoft Word, a 'fragment'), rather than the more traditional Title: Subheading format we might have expected.
While details of the plot remain shrouded in secrecy (although we know a little more about the character that Benedict Cumberbatch is playing), the title implies that the crew of the Enterprise will be dealing with something darker this time around. So, that's darker than attempted genocide, then…
Still, whatever darkness Chris Pine, Zachary Quinto and chums will be Trekking Into (Khan? Romulans? A Justin Hawkins covers band?), we trust Abrams to keep his signature current of humour running through proceedings. Star Trek has never been the darkest, or most weighty of franchises, and we're not expecting this to descend into Battlestar: Galactica levels of bleak.
The crew of the Enterprise will Star Trek Into Darkness on 17th May 2013.
About The Author