Emma Watson in talks to play Disney princess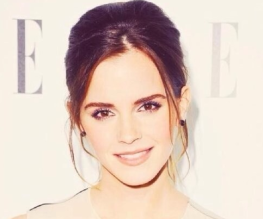 Disney have been going all out on the fairy tales recently. Not only are Oz: the Great and Powerful and Maleficent set for big blockbuster releases, but Kenneth Branagh is having another turn in the director's chair for his Cinderella remake. The news of Branagh's directing comes after Mark Romanek opted out of the chance to helm the fairy tale due to "creative differences". Now all eyes are on who might possibly play the Disney princess herself…
So far, Saoirse Ronan, Gabrielle Wilde and Alicia Vikander were all in talks to play the lead, but it looks as if a certain Harry Potter bookworm might be stealing their crown. Emma Watson is currently in early discussion to star as Cinderella herself, who – if all goes well – will be joining Cate Blanchett, set to play a massive bitch a.k.a the evil stepmother.
The relatively dull eyebrow actress (it means her acting's all in her eyebrows) Emma Watson has been on a roll in the last few years blockbuster-wise, with My Week with Marilyn, The Perks of Being a Wallflower and the upcoming The Bling Ring all under her sleeve. And despite the awful title, The Bling Ring is Sofia Coppola's new crime drama, telling the story of a group of teenagers who use information garnered about celebrities' whereabouts online and proceed with a bunch of nasty burglaries. Paris Hilton will be "one of the more high profile victims." Yikes.
You'll be able to get your Emma Watson fill soon enough, ladies and gents. The Bling Ring is due out in the US this summer, but for now, we're happy with see Cinderella in the reasonably safe and dramatic hands of Hamlet director Kenneth Branagh. Who we love. Or do we?
Frankly, these are the only fairy tale movies that we actually want to see.
Like Emma Watson? Want to see her lose her glass slipper and waltz around in a pretty dress? Us neither.
About The Author