The Notebook author's latest romantic abomination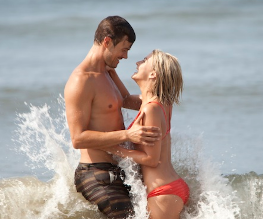 The Notebook was one of the biggest films of 2004, despite being labeled a war crime by the UN. Despite this setback, we have had a steady stream of The Notebook author Nicholas Sparks' film adaptions. This year has already seen The Lucky One (winner of 3 Teen Choice Awards!) which featured Zac Efron as a persistent and accomplished stalker, and the creepy vibes are set to continue in Safe Haven.
The film is about a hot girl with a tortured past (Julianne Hough) on the run from the police. Enter Josh Duhamel, who stalks her incessantly (this is becoming a peculiar Nicholas Sparks theme here) until she caves in to his demands. Despite the fact that she seems implicit in some sort of grisly murder, Josh Duhamel attempts to shield his latest victim (his former wife disappeared  mysteriously years before) from the law. With his abs, or something. Kind of makes you long for The Notebook again, doesn't it?
The trailer is presented below, and it really is rather extraordinary. The first 3/4 plays out like a slasher flick set to a Fleetwood Mac cover. If you liked The Notebook, or disliked The Notebook, or cast warding magicks against The Notebook, it's worth watching.
Safe Haven graces our unworthy screens next February, just in time for some large, romantic holiday that no one has heard of. Would you see this film on a date?
About The Author